One of my passions is speaking at colleges. For the past several years, I've been presenting on how high-achieving students can manage stress and the importance of making time for oneself and using leisure time to recharge. I love speaking; I enjoy meeting college students, sharing what I've learned, and traveling to a range of interesting and diverse colleges.  October is OCD Awareness Month and this fall, I'll be speaking about OCD awareness and how everyone can benefit from learning OCD coping strategies.
This summer, I decided that I wanted to start speaking about OCD at colleges. I wrote a lecture about how most of us fall somewhere on an OCD spectrum and many people occasionally experience intrusive thoughts or have an irrational worry. People who could be diagnosed with OCD have intrusive thoughts and irrational worries more frequently. Many people who have OCD don't know they have OCD, because there's not enough discussion about the many ways that OCD can manifest.
I discuss how people can recognize if they have OCD, or are experiencing symptoms of OCD. I devote about half the program to discussing how to observe one's thoughts; this is the cornerstone of recovering from OCD, but it's a skill that can vastly benefit everyone. I discuss how the voice in our heads is like an obnoxious roommate that comments on everything and focuses on the negative. Thankfully, we can train our brains to choose what to focus on. Finally, by making time for leisure time and practicing self-care, we gain the reassuring knowledge that we can take care of ourselves and make ourselves comfortable when we need comfort.
I am really lucky: I have a great relationship with the sorority community at Quinnipiac University. This year was the third year I've given my presentation on stress relief for overachieving women at Quinnipiac. I asked the sorority leaders if I could also do a practice run of my new program on OCD for the Quinnipiac University while I was on campus.
They graciously arranged for me to speak in the early evening on September 8th. I was nervous, but the material went over really well and the students gave me great feedback, including that they said the concepts I discussed were new to them (and thus, they learned something helpful and interesting). One student posted about the program on her Instagram, and my heart practically exploded.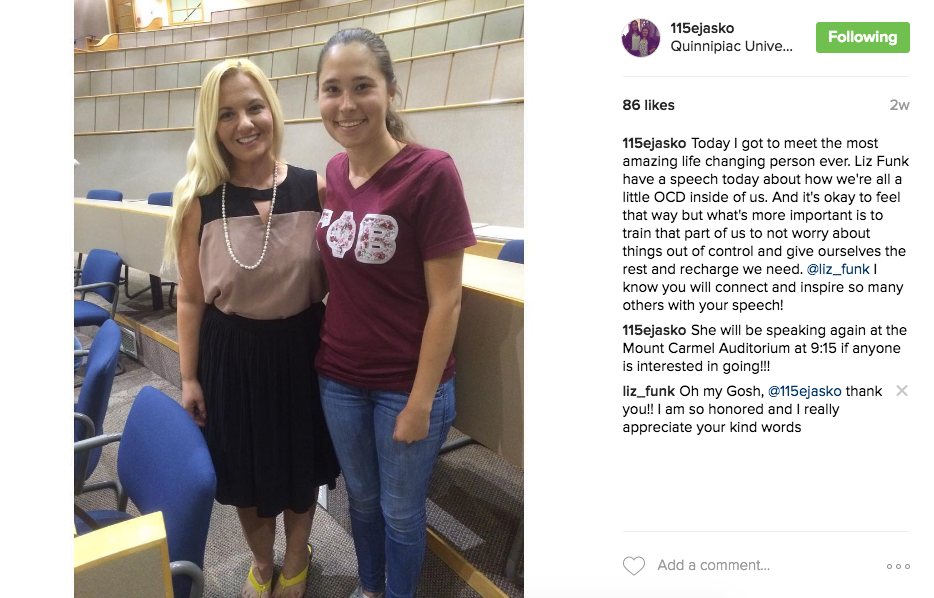 So, I'm delighted that I'll be speaking at a number of colleges this fall, including during OCD Awareness Month in October, about OCD and how everyone can make their lives better when they learn to observe their thoughts, choose what to focus on, and practice upgraded self-care.
Speaking Schedule:
September 26th: Creighton University (Omaha, NE)
September 28th: Villanova University (Villanova, PA)
October 4th: James Madison University (Harrisonburg, PA)
October 5th: West Chester University (West Chester, PA)
October 11th: Grand Valley State University (Grand Rapids, MI)
October 12th: Illinois State University (Normal, IL)
October 17th: Syracuse University (Syracuse, NY)
October 29th: Stevens Institute of Technology Women's Empowerment and Leadership Conference (Hoboken, NJ)
November 8th: Miami University of Ohio (Oxford, OH)
November 9th: University of Texas, San Antonio (San Antonio, TX)
I'll be posting photos from my speaking engagements (and my travels) on Instagram. For now, check out photos of my recent speech at Quinnipiac and at Muhlenberg College.